Speaking Truth to Power
---
In this section of the website I would like to show how we are able to engage in what the Quakers call "speaking truth to power" – that's if we care enough about an issue. In fact the more we care about an issue, the more it's incumbent on us to speak up about it.
The trick is to identify the person who can do something about the issue, to do all the necessary research so you really know what you're talking about, and to deal with your own emotions about the issue before you open your mouth. I'll say more about that at the end of the section.
Stories of my Life
In the course of work to develop dialogue I am profoundly grateful for the chances I've been offered to meet extraordinary people. Even if I disagreed with what they do, in each case I discovered remarkable human beings who taught me about myself, my reactions and about the world they inhabit.
How you can speak truth to power
---
I promised that at the end of this section I would offer some ideas on how best to "speak truth to power". The first step is to identify the person who can do something about the issue you care about.
When we started work on nuclear decision-making in 1982 there was no internet, no Google to help you find things out, in fact all we had was a manual typewriter with a French keyboard! Now it's easy to find the department, the advisory board or the organization who can help you, and then – once on their site – you can look under "Staff" or "Who we are", and find the right person.
Next, make sure you deal with your own emotions about the issue before you open your mouth or write your letter. Most of us who want to change the world are driven by fear or anger.
Be willing to examine yours, get to the bottom of it. That will enable you to use anger as a fuel in your engine, rather than spraying it around and lighting a match.
Third, it's really essential to do your homework. Come with the facts, calmly presented. Be succinct, and end with your request clearly stated.
If you want to know more about this, there's a little booklet we prepared for groups of people entering dialogue with nuclear decisions makers, called "Achieving Change: a step-by-step approach to dialogue with decision- makers". It costs £5.00 + p&p, and we have a few copies left.
What did people think?
There was so much disapproval from the British establishment – the Oxford Research Group was banned by the Ministry of Defence in 1988, all military personnel forbidden to speak to us, my tires were slit, stones thrown through my window, phones tapped – that sometimes I felt that the cost for my family was too great.
So it was amazing to discover that we had been nominated for the Nobel Peace Prize not once but three times. And later, when I published a more personal book entitled "Pioneering the Possible" it was thrilling to learn what people made of our efforts:
"Scilla Elworthy is worthy of a strong push from all of us. If we are to create a sustainable civilization at his point in history (and we must, in order to survive) it is precisely this thinking and writing that must prevail. She has my strong support and concurrence with her efforts."

"We had the great privilege to work with Scilla Elworthy to turn The Elders into a reality in partnership with Richard Branson, Peter Gabriel, and a host of other wonderful partners. We all found Scilla to be an incredibly insightful leader. Her ability to see the big picture, yet bring this back to practical action for individuals is a wonderful gift. Her new book shares her rich wisdom about a new type of leader that has a deep level of awareness of their inner power. This book is certainly a powerful catalyst toward the new world of consciousness founded in listening and empathy that the world needs to embrace."

"A work of lasting impact. Visionary is much too small to describe Scilla Elworthy. . . . With a rare grasp of today's realities, she not only sees what's coming but also shares her pragmatic vision of what life could be like. Alongside an empathetic analysis of 'some of the giants who have shown the way,' this wise woman—herself a towering figure—offers readers a huge and motivating gift: an explanation of how ordinary individuals can change the world, and why they must wake up and do it."
The Shift Network Production: Bridging the Personal and the Political
Filmed: March 2015
Unesco India
Filmed: October 2016
"Peace or War? Why war continues, how peace can be built, what it will cost, and who can do it."
Publications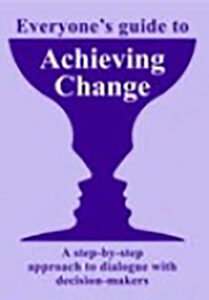 Everyone's Guide to Achieving Change
Since 1982, Oxford Research Group has been building trust between policy-makers, academics, the military and civil society. This handbook is designed to introduce the reader to the dialogue approach to achieving political and social change. It is based on ORG's 25 years' experience of working through research and dialogue to progressively marginalise the role and legitimacy of nuclear weapons in world politics, and to develop realistic non-military alternatives to the prevailing security orthodoxy.
To order please email contact@scillaelworthy.com.
Price: £5.00 + £2.50 P&P.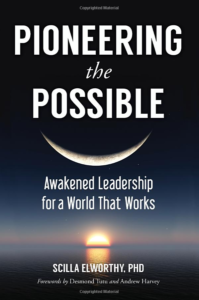 Pioneering the Possible: Awakened Leadership for a World That Works
Most human beings worldwide are anxious about the future, afraid for their children, and dissatisfied by their lives, but have no idea what to do about it. This book is the first to address these anxieties head on by envisaging a future that could work for all, demonstrating with live examples how that future is already emerging, and profiling the people who are already living it.